We Accept Most Insurances!
DPD Smiles makes lip and tongue-tie releases in Wheaton a breeze by utilizing state-of-the-art laser technology. If your child shows signs of tongue-tip or lip-tie, we are here to help.
A frenectomy, also known as a lip-tie or tongue-tie release, is a simple procedure that removes or reduces connective tissue (frenum) from under the tongue or upper gums. It sounds painful, but thanks to cutting-edge dental laser technology, a frenectomy has never been easier.
A lingual frenectomy is performed to correct a tongue-tie, which limits the tongue's ability to move. Babies with tongue-tie often have trouble breastfeeding, speaking, and eating. During a tongue-tie release, the frenum tissue connecting the underside of the tongue to the floor of the mouth is trimmed back.
A labial frenectomy is performed to correct a lip-tie. Children with a lip-tie have too much tissue connecting the upper or lower gums to the front of the teeth. This prevents newborns from latching during breastfeeding. If left untreated, not only will latching be a problem, a lip-tie can cause orthodontic issues in children and gum recession in adults.
Overall, a frenectomy is an essential oral treatment to help babies and children enjoy normal function of their mouth, stay healthy, and avoid speech problems in the future.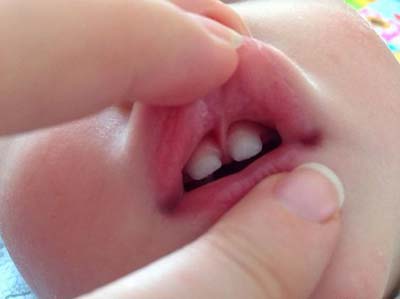 Laser Tongue-Tie & Lip-Tie Procedures
If you believe your child has a lip-tie or tongue-tie, call our office and set up a consultation with our pediatric dentist. We'll assess your child's condition, and if needed, schedule a time for their frenectomy. You do not need a referral to have a consultation or exam for a lip/tongue tie revision. The DPD Smiles team is proud to offer laser frenectomy using the gentle and efficient Waterlase laser system.
Why Should We Choose Laser Frenectomy?
Patient safety and comfort is our highest priority. Many parents take a great deal of comfort in that this is a bladeless, sutureless, painless treatment solution. Conventional surgical scissors have a lower safety profile (especially in reference to scar tissue) than lasers do.
Using the Waterlase laser that combines light energy with water, Dr. Joshi can expertly eliminate the tissue causing a lip-tie or tongue-tie. We create a gentle, stress-free experience that makes it possible for your child to eat, talk, and drink without any difficulty.
Benefits of laser tongue-tie and lip-tie treatment:
Minimal to painless procedure
Dr. Joshi's Personal Experience with Frenectomies
As an experienced dentist, I've helped young patients and their parents handle every type of dental issue imaginable. Yet, despite my training and experience, I was surprised to hear that my newborn son was tongue tied.
Our pediatrician assured me his tongue-tie was minor, nothing to worry about. My lactation consultant encouraged working around it. But feedings became nearly impossible, and my poor, frustrated baby boy would start biting in an effort to compensate for his inability to latch.
After finding a certified lactation consultant, we successfully diagnosed the problem - Sahil was tongue-tied and lip-tied! He had a short attachment to the muscles in his tongue and upper lip (frenum), restraining movement and of course affecting his feeding. After attempting every conservative approach recommended, we decided to have this treated using laser frenectomy.
This was the best choice we could have made, and since then, many parents have heard me recommend the laser frenectomy procedure because it's quick, comfortable, and easy on both child and parent. The entire process only takes a few minutes, no stitches are needed, and minimal bleeding occurs!
Call our office today to learn more about laser tongue-tie surgery and the innovative technology we use to deliver optimal results.
We Accept Most Insurances!